C&C Catering Equipment Ltd's Managing Director, Peter Kitchin, was honoured to recently present the newly re-named John Kitchin Memorial Award for the most improved Cedabond member at this year's CEDA awards.
The annual conference, which took place at Heythrop Park, Oxfordshire, recognised many companies in the industry across a variety of events. The John Kitchin Memorial Award was presented to W V Howe (top left)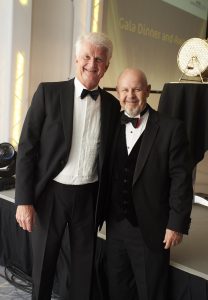 as the most improved Cedabond member on the Thursday evening following a Ceda/Cedabond Networking Dinner and drinks reception.
Networking also took place at the Ceda Gala Dinner on Friday night, with Peter and wife Cathy (pictured above right) celebrating with Steph Humble and Ed Bircham, who collected the Legacy Honour award in Andrew Humble's name.
Pictured left is Peter and Gratte Brothers' Ian Bass, who is retiring and was Ceda Treasurer for 17 years.
Managing Director Peter Kitchin commented, "The CEDA Conference was a great event as usual, and it was an honour and privilege to present The John Kitchin Memorial Award. I know my dad would have been delighted with this recognition."